PLANETA, a Tour of Terroirs
No one has done more in the past 20 years than the Planeta family to explore Sicily's wine potential and diversity. Their energy has resulted in a sprawling Sicilian wine company run by six cousins with six estates and five wineries.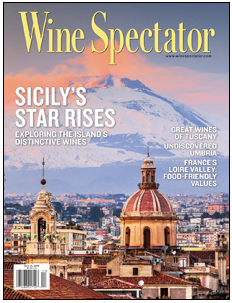 The Planeta family has owned agricultural lands in southwestern Sicily since the 17th century. But the vision for a global wine company came in the 1980s from family patriarch Diego Planeta, who recruited his nephew Alessio, then an agronomy student, along with Piedmontese enologist Carlo Corino, to plant Sicilian and international varieties on the hills of the family's remote Ulmo estate and around nearby Menfi.
"This became the laboratory for the renaissance of Sicilian viticulture," says Alessio Planeta, 47, the company's chief winemaker.
In the mid-1990s, Planeta released wines made from Cabernet, Merlot and Chardonnay that proved that Sicily could compete with the New World. The 1998 Chardonnay, for example, received 91 points from Wine Spectator on release. But then the family shifted its strategy, deciding to establish a collection of wineries across Sicily and explore local grapes and terroirs.
The first move was to the Nero d'Avola hot spot of Noto, in southeastern Sicily, followed by Vittoria, where the goal was to blend a pair of Cerasuolo di Vittoria reds from Nero d'Avola and Frappato. More recently, Planeta moved to Mount Etna, purchasing and developing the Feudo di Mezzo estate in some of the highest-altitude vineyards on the mountain, where its premium red, a Nerello Mascalese, and a white made from Carricante with 10 percent Riesling, are labeled Eruzione 1614.
The latest project—and last, Planeta claims—is a small estate on the seaside Capo di Milazzo in northeastern Sicily, where Planeta is one of a handful of producers in the historic Mamertino appellation focusing on Nero d'Avola-Nocera blends. Planeta plans to release its first vintage from the site, the 2013, this fall and is experimenting with three long-abandoned varieties from the area.
"Whenever we moved into a new place on Sicily, we started with a blank page," says Planeta. "Now that the journey around Sicily is finished, we are focusing on working better and better every year."  — R.C.
Sicily's star rises
Exploring the island's distinctive wines
Sicily in February is verdant and lush. The grapevines, emerging from their winter hibernation, are separated by rows of rich green grass and bright yellow flowers. The island's southern coast is dotted with vibrant orange groves and the pale pink of almond trees in bloom. Even the stark volcanic crags of Mount Etna are softened by wildflowers mixed with the silvery-green tufts of olive trees.
In summer, all this changes. Temperatures rise to the 90s, the sun beats down for 10 to 12 hours each day, and the rainfall that is so regular during the winter drops to almost nothing— on average, approximately 0.1 inches in the months of July and August.
"Sicily is really a land of contrasts," remarks Laurent de la Gatinais, president of his family's Rapitalà estate.
This general statement is a common refrain when referring to the many aspects of Italy's largest and most southerly island—its wines, climate and geography, its people and more. Yet these diverse strands weave an alluring tapestry, and help make Sicily one of Italy's most distinctive and exciting wine regions today.
The success of this effort can be seen most clearly in the wines of Mount Etna, Europe's tallest active volcano. Etna accounts for only about 3 percent of Sicily's total production, but the quality and character of its wines makes it a bellwether. Its Burgundy-like reds, made primarily from the Nerello Mascalese grape, can reach impressive heights—reflecting the mountain's lofty, terraced vineyards, which I explored on a visit to Sicily this spring. In the past year, I have reviewed more than 300 wines from Sicily, and a full third of the 93 outstanding wines (90 to 94 points on Wine Spectator's 100-point scale) ate from Etna.
Marc de Grazia, an American importer, is owner and wine-maker of Etna's Tenuta delle Terre Nere, which regularly produces top bottlings from the area. Among them is the 2011 Etna Pre-phylloxera La Vigna di Don Peppino (92 points, $100), a graceful red with beautiful aromatic range and supple, well-meshed tannins. Vinified from two parcels trained in Sicily's bush-vine style, known as alberello, these 130-year-old vines are located within the Calderara Sottana contrada (Etna's local term for a cru or single vineyard). This dense red exemplifies the rediscovery of Sicily's deep winemaking traditions at the hands of a new and energetic generation.
Like most of Sicily, Mount Etna produced significant amounts of common wine through the second half of the 19th century, but the area's vineyards were largely abandoned during the 20th century. The scourge of phylloxera, the vagaries of export markets and the encroachment of lava flows all took their toll, and many of Etna's inhabitants moved to other parts of Italy or other countries in search of better opportunities.
One local son who stayed put is Giuseppe Benanti. Along with enologist Salvo Foti, Benanti set out in 1988 to explore Etna's patchwork of soils, clonal selections and viticulture, and to produce wine whose quality would revitalize interest in the area's production. Benanti's Etna Superiore Pietramarina 2009 (92, $50) shows the region's potential. Made from 80-year-old Carricante vines planted at an altitude of over 3,100 feet, the Pietramarina offers the petrol-tinged minerality and cut of a fine German Riesling, but with the weight of a white Burgundy, showing a richness that suggests oak when in fact it's fermented and aged entirely in stainless steel.
But what really put Mount Etna on the modern wine map was the arrival of a trio of outsiders: Terre Nere's de Grazia; Belgian Frank Cornelissen of his eponymous winery; and Andrea Franchetti of Passopisciaro (as well as Tuscany's Tenuta di Trinoro).
"We all arrived in 2001," says de Grazia. "I guess we set this place on fire, each of us in our own way. But what was important was that the first three guys who came up here really wanted to make high quality wine."
That quality is tied tightly to three factors on Mount Etna: altitude, exposure and terroir.
Vineyards work their way up Mount Etna's slopes, rising to about 3,600 feet (the mountain peaks at roughly 11,000 feet of elevation). Until about 1,300 feet, the vines are planted on clay and sand soils; but it's at this level and up to 3,000 feet that Etna's primary red variety, Nerello Mascalese, and its blending partner, Nerello Cappuccio, really thrive. Here, the clay and sand give way to the more seriously volcanic soils that you'd expect on the side of an active volcano. Gravelly pebbles from eruptions and broken lava flows gradually transition to increasingly fine, volcanic sand as you climb the mountain.
Above 3,000 feet, Etna's highest-elevation vineyards are largely dedicated to white wine production and the local Carricante grape. The looser character of Etna's volcanic soils encourages root development, and they remain well-drained yet store enough water for the dry summer months.
The mountain's vineyards fan out from north to southwest, but lie primarily on the eastern side of the mountain. Harvest is typically in mid- to late October, though for some producers, it extends into early November. Nerello Mascalese responds to the long hang time, which allows overall physiological maturity and, importantly, complete ripening of its Nebbiolo-like tannins.
The scope of elevation for plantings, the variety of exposures and the unique microclimates present on Mount Etna result in an intriguing range of terroirs. Nerello Mascalese seems to keenly express these distinctive sites, and its bright red fruit, herb and spice character is frequently underscored by pronounced minerality. Like Pinot Noir, Nerello Mascalese is thin-skinned and delicate, but Nerello's tannins are more akin to those of Barolo's Nebbiolo. This is particularly true when ramped up by fermentation or aging in the larger, neutral oak that is used by many of the area's producers.
As in Burgundy, producers on Mount Etna have begun to recognize the distinctive characters of wines from specific parcels and sites, and some are expressing them via contrada-designated bottlings.
"We're convinced we're at the beginning of a long haul," says Ciro Biondi, whose expressive 2011 Etna Cistema Fuori Contrada Ronzini (92, $60) comes from 5 acres of terraced vineyards in the Cisterna Fuori contrada. "We need at least an-other 30 years before we can say, 'This is Etna,' and before we can truly understand this wonderful terrain. At the moment, we don't even know what a treasure we have right under out feet."
Etna's success is a theme that recurs across Sicily: A few intrepid pioneers set out to make quality wine, then an explosion of new labels follow in their footsteps. While Etna's progress is a relatively recent accomplishment, producers in other parts of Sicily have a few more years of experience in the quest for quality wine production and international recognition.
Duca di Salaparuta, with its Corvo label, and Tasca d'Almerita, with Regaleali, were two of only a few wineries producing well-regarded, commercially successful bottlings in the post-World War II era. Both labels continue to deliver good value today, while also producing other, higher quality offerings. Salaparuta has its rich and tarry Sicilia Duca Enrico (2010: 91, $69), made entirely from Nero d'Avola; Tasca produces the Contea di Sclafani Rosso del Conte (2010: 91, $70), a subtle blend of Nero d'Avola with Cabernet Sauvignon and Cabernet Franc that really builds on the palate.

Many of Sicily's top producers forged their paths in the 1980s and '90s. Vittoria's COS estate, founded in 1980, is a celebrated story of three college friends—Giambattista Cilia, Giusto Occhipinti and Cirino Strano—who decided to make wine as a pastime. Today COS produces nine wines, including the Nero d'Avola Sicilia Contrada. Made entirely from alberello- trained Nero d'Avola vines averaging 55 years old, this is COS' weightier Nero, with extended aging before release, first in French oak barrels for 24 months, then stainless-steel tanks and bottle for another 18 months. A seamless, elegant red, with lots of red fruit and spice and herb aromatics, the 2008 bottling (94, $85) is the highest-scoring wine of this report.
More often, new wineries have been founded by Sicilian families with several generations of history and experience on the island, often previously in high-volume grapegrowing and winemaking, along with other agricultural pursuits. Donnafugata, Firriato, Planeta and Rapitalà are among the standouts in this category.
Diego Planeta, who established his winery in 1995, has regularly received outstanding scores for his wines, the first of which were released in the late '90s. One example is the Planeta Chardonnay: The 2012 (90, $42) is a fresh and focused version, offering pretty white and citrus fruit, with smoke and spice notes. The winery also impresses in the value category with the La Segreta White 2013 (89, $14) and Red 2012 (87, $15). These crowd-pleasing blends are based predominantly on local varieties, but each includes some international grapes as well.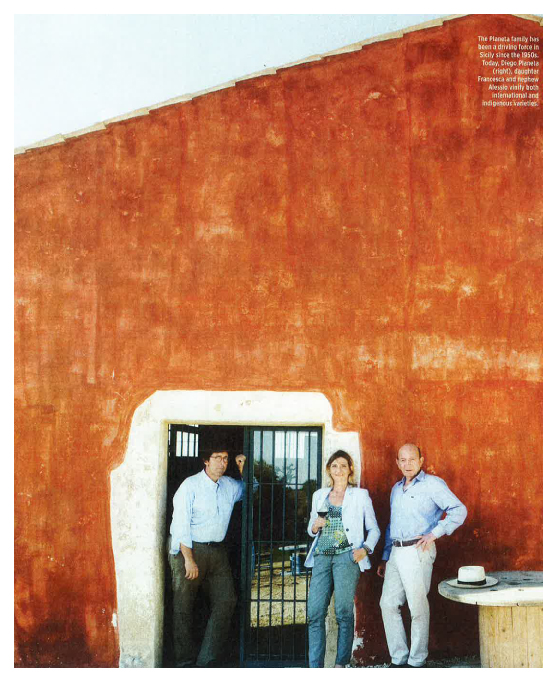 Today, Planeta is one of Sicily's best-known names, but Diego Planeta's role in modern Sicilian wine began much earlier. In 1973, he commenced an almost 20-year term as president of Sicily's most successful cooperative, Cantine Settesoli, located near Menfi on the southwestern coast of the island and where Planeta would later establish his own estate.
Planeta's father was a founding member of Settesoli in 1958; the cooperative was created to help protect grapegrowers at a time when vineyard acreage was at a post—World War II high of more than half a million acres, and prices were at a dramatic low. Today it includes 2,300 members farming more than 15,000 acres of vines—roughly 5 percent of total vineyard acreage in Sicily—producing value-oriented wines under the Mandrarossa label.
Diego Planeta's tenure at Settesoli included a forward-thinking partnership in the '80s with the Istituto Regionale della Vite e del Vino (Regional Institute of Vine and Wine, or IRVV). The IRW helped to fund experimental vineyards of international varieties, such as Cabernet Sauvignon and Chardonnay, from which microvinifications were made in order to understand which of these non-native varieties might perform best in Sicily.
"At the time, he seemed mad to everyone else in Sicily," says Francesca Planeta, Diego's daughter. "But he had the vision that we had to do it to save Sicilian viticulture. He didn't do it just for Settesoli, he did it for the whole of Sicily."
Based on the success of the IRW-partnered plantings, Settesoli began to pay members to plant these international varieties alongside established vineyards of native grapes. Although skepticism reigned initially, ultimately this step showed co-op members the viticulture and vinification techniques of grapes and regions with long histories of quality wine production and how to adapt them to Sicily.
"We needed to compare ourselves to other, established wine regions in order to improve and move forward," says Jose Rallo, who heads her family's Donnafugata estate with her brother Antonio. Founded in 1983 by the siblings' parents, Donnafugata mirrored Planeta's work at Settesoli when it shifted from quantity-driven production of indigenous varieties to plantings of international grapes geared toward lower yields and higher quality. Donnafugata's rich and toasty 2011 Contessa Entellina White Chiaranda (91, $45) is made entirely from Chardonnay, and its Sicilia Tancredi 2010 (90, $45) is an aromatic blend of Cabernet Sauvignon with Nero d'Avola and Tannat.
"If we hadn't brought Sicilian Chardonnay or Cabernet Sauvignon to the table, we might not have been able to bring [our local] Nero d'Avola and had it accepted or even tried," Rallo reflects. "So international varieties were a marketing tool, but also a technical tool that allowed us to better understand our native varieties."
The lessons learned from international grape varieties were just the start of Sicily's trek toward quality wine production. Expertise from elsewhere in Italy, in the form of renowned consulting enologists such as Franco Giacosa, Giacomo Tacchis, Riccardo Cotarella and others, helped to refine the vision of modern Sicilian wine. But even so, Sicilian wine was a hard sell.
Carmelo Morgante remembers the difficulty his father faced in 1994 in securing Riccardo Cotarella's consultancy for their family's newly formed Morgante winery. "People thought only of Mafia when they thought of Sicily, and they couldn't see or imagine its great diversity." But, he adds, "In 1996, '97, '98, Sicily started to be known thanks to Planeta."
As Sicilian wine began to gain momentum, it sparked interest from outside investors. Among them was Antonio Moretti, owner of Tenuta Setteponti and Poggio al Lupo in Tuscany. Moretti founded Feudo Maccari in 2000 near Noto, an area in southeastern Sicily near the Nero d'Avola grape's original hometown of Avola. Filippo Mazzei, also from Tuscany, moved in nearby in 2002 with his Zisola estate. And north-eastern Italy's Mezzacorona cooperative from Trentino settled in central Sicily in 2002 with their Feudo Arancio property.
"The Sicilian experience has been one of the most exciting of my life," says Alessandro Cellai, winemaker for Tuscany's Castellare di Castellina and Sicily's Feudi del Pisciotto, both owned by publisher Paolo Panerai. The Feudi del Pi-sciotto estate is not far inland from Sicily's southern coast, located near the Sughereta di Niscemi nature reserve of ancient cork trees. The winery's 2012 Nero d'Avola Sicilia Versace (91, $32) is suave and silky, with pure fruit character.
"We discovered this place with nothing here, and we thought about everything we could do. It's a different perspective from Tuscany to Sicily, but Tuscany gives us a frame-work and a tool set to begin. Experience is the master of life."
While international grape varieties and outside expertise and investments may have paved the way for Sicily's modem wines, the cutting edge today is the region's return to indigenous varieties and a closer look at terroir. Plantings of local varieties now outnumber the Cabernet and Chardonnay vineyards that were so popular 20 years ago. "In the late 1990s—when I couldn't sell a bottle of Nero d'Avola to save my life—all I wanted was more Chardonnay to sell. But my father was already looking for Nero d'Avola properties," says Francesca Planeta.
In the past 10 to 15 years, Sicilian producers have really embraced this signature red grape. They've gone beyond the ripe, jammy character that marked many value versions, and have created a remarkable range of styles based on location and wine-making techniques.
Today there are versions of Nero d'Avola with a freshness and elegance akin to cool-climate Pinot Noir. Cantine Gulino, located in Sicily's southeastern corner near Siracusa, produces a bright, harmonious version in its Nero d'Avola Drus (2011:90, $28). Across Sicily, near Palermo in the northwest Francesco Spadafora of his family's estate bottles a fresh Nero d'Avola Schietto (2008:90, $33), with pure fruit and fine-grained tannins.At the other end of the stylistic spectrum, Firriato's 2011 Nero d'Avola Harmonium (90, $44), aged for 12 months in French and American oak barriques, is rich and chewy, with sappy fruit and smoky bacon fat notes.
"Noto is for Nero d'Avola what Montalcino is for Sangiovese—it's distinctive," says Patricia Toth, an energetic young winemaker at Planeta, speaking about their estate in the area. "You don't talk about Sangiovese styles. You talk about where they're from—this should be the same with Nero d'Avola." Yet another champion of local varieties is Arianna Occhipinti, a 32-year-old winemaker from Vitto-ria, in the southeast. Occhipinti, who has become a poster child for the renaissance of Sicilian wine, is dedicated to the native Frappato and Nero d'Avola varieties, which are blended into the local DOCG wine, Cerasuolo di Vittoria. The niece of COS' Giusto Occhipinti, she produced her first wine from just ' 2.5 acres of vines in the 2004 vintage. "Frappato was my first love, and it formed my decision to start making wine," says Occhipinti.
That passion has her producing a straight Frappato—one of only a handful of producers to do so—and her 2012 Frappato Sicilia (90, $42) is an intensely aromatic and mouth-watering wine, a red with real finesse. It also led her to expand her operation, including the purchase in 2005 of an abandoned farm in the center of Cerasuolo, new vineyards (she now farms 50 acres in total) and a recently launched project of afford-able wines made from purchased grapes under the TAMT label.This kind of enthusiasm is fueling the fire in Sicily's belly. "Sicily is not easy," warns Occhipinti. "You have to be strong and have passion to make good things." But there's a spirit of camaraderie in Sicily's wine culture that's driving its progress.
"We learn from each other. It's happening all over Sicily," says Alberto Tasca d'Almerita, who heads up his family's historic winery with his brother Giuseppe. "When you are surrounded by new energy, it's very easy to explore new ideas," he adds.With this energy, Sicilian wine producers are propelling their wines to worldwide attention. In the process, they are starting to see their bright future as well as their next hurdles. Speaking for Sicily as a whole, Tasca d'Almerita sums up that future: "We have many projects on our agenda — short-, medium- and long-term. But always we need to educate and to explain what we are "h'hg, and to share the message of our wines, people and culture."
GEOGRAPHY , The lay of the land
It's hard to generalize about Sicily's vineyards, because they are spread over much of the island, at varying altitudes and on different soils. To begin to understand the viticultural landscape, it's easiest to divide Sicily into the following four areas:
WEST: More than half of Sicily's vineyards, including about 70 percent of those devoted to white grape varieties, are planted on the hills located along the western coast and just inland. This is a modern-day nod to the historically important Marsala dessert wines, named for the port city located on the western tip of the island. Vineyards here are planted at elevations of up to 1,900 feet, on calcareous soils mixed with red clay.
CENTRAL: The center of the island includes broad swaths of land largely devoted to agricultural (non-vine) and pastoral purposes, but three areas can be picked out for vine growing and wine production:
South of Palermo: Vineyards are planted on hillsides at higher altitudes (about 1,300 feet); this area includes the Alcamo DOC. Soils are typi-cally calcareous clay
Lower-lying vineyards (from 800 feet) are found along the southern coast and its inland hills, roughly from Menfi to Licata. Vineyards are a mix of sedimentary and calcareous soils, and the hot sirocco winds from Africa keep them warm and dry.
High-elevation (up to 2,900 feet) hillside vineyards of sand and clay are found in a portion of the center of the island, including the Contea di Sclafani DOC. This area is also affected by sirocco winds, but the higher altitudes mean that the diurnal temperature swing is significant.
SOUTHEAST: Along with the northeast and Mount Etna, the southeast is helping to lead in terms of quality, but it produces only a small fraction of the island's wine; about 4 percent of Sicily's total vineyard plantings are located in the southeast, primarily around the towns of Vittoria and Noto. The town of Vittoria is at the center of Sicily's only DOCG appellation, Cerasuolo di Vittoria; these lower-altitude, coastal vineyards experience generally hot and dry conditions, and the sandy soil is mixed with layers of packed calcaire and iron oxide. Noto is the hottest part of Sicily, with coastal vine¬yards that are extremely calcareous, some mixed with clay and many with white rocks on the surface that help to reflect the area's intense heat and sunlight. Noto is adja-cent to the town of Avola, traditional home to Sicily's preeminent red grape, Nero d'Avola.
NORTHEAST/MOUNT ETNA: The plain along Sicily's northern coast includes some vineyard plantings, but most of the vineyards in the northeast wrap around Mount Etna's slopes. Vineyards rise to more than 3,600 feet, planted on volcanic soils of pebbles and sand, with a long growing season and about 47 inches of rain per year—approximately twice as much as Sicily's overall average.
GRAPE GUIDE, Can you say "uve"?
NOTABLE WHITE GRAPE VARIETIES
CARRICANTE: Mount Etna's most important white grape, but not often grown elsewhere in Sicily.
CATARRATTO: Sicily's most widely planted white grape, often blended with Inzolia. High-acid, lightly fruity in flavor, sometimes with a hint of bitter-ness on the finish.
GRILLO: Easy-drinking and fresh, with white and citrus fruit mixed with almond and saline notes. Showing increasing success in Sicily.
INZOLIA (INSOLIA): Low-acid, lightly floral and spicy; can lose concentration when harvested at higher yields. Also known as Ansonica in Tuscany.
OTHER WHITE VARIETIES: Chardonnay, Grecanico, Trebbiano di Toscano, Fiano, Zibibbo (Muscat d'Alexandria)
NOTABLE RED GRAPE VARIETIES
FRAPPATO: Bright and fruity, with cherry and other red fruits; intensely floral and spicy. Blending partner of Nero d'Avola in the Cerasuolo di Vittoria DOCG. NERO D'AVOLA: A bright red with flavors of dark berry and cherry fruit, game, spice and herb; shows a stylistic range from ripe and jammy to elegant and fresh. Sicily's most widely planted red grape variety. NERELLO MASCALESE: Best-known from Mount Etna, but grown throughout Sicily; expressive of the soil on which it is grown, with firm tannins and flavors of cherry, tobacco, floral and spice.
OTHER RED VARIETIES: Cabernet Sauvignon, Nerello Cappuccio, Perricone, Syrah.
Fast Facts: Sicily by the numbers
Area of Sicily: 9.927 square miles (6.353.280 acres)
Acres under vine: 254.410 (2013)
Height of Mountain Etna: 10.991 feet
Average rainfall per year: 24 inches
Number of wineries: increased from about 150 in 2000 to more than 450 in 2013.
Download article: winespectator-oct31-2014-pdf